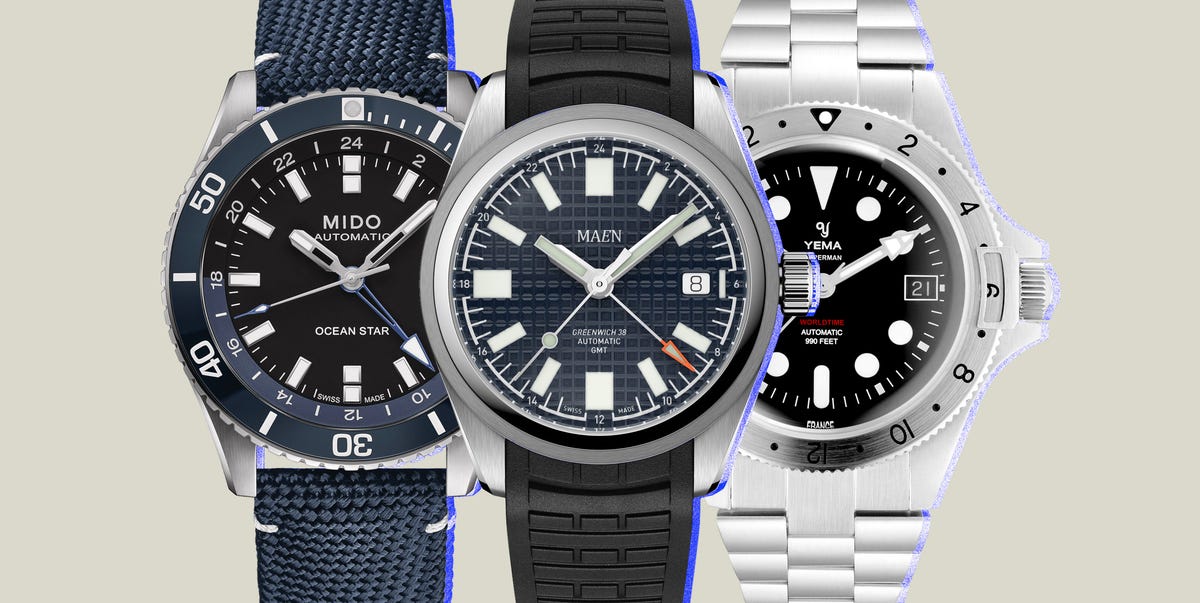 GMT is an abbreviation for Greenwich Mean Time, and it is positioned as "0" on the 24-hour international timezone scale. Simply put, a GMT watch is a timepiece that shows both a 24-hour and a 12-hour time scale. Check out our collection of luxury Fileteado GMT watches at Franck Dubarry to see what they look like. A GMT watch has become a timeless and fashionable device in recent years, but few people are aware of its fascinating history.
A GMT watch is a timepiece that has a second-time zone. The wearer can set and view the time in another time zone in addition to the local time. GMT stands for Greenwich Mean Time, which was once considered the official world time.
A SHORT HISTORY
THERE WAS LATITUDE IN THE BEGINNING.
It all began with the age of ship exploration. Humans began to travel long distances overseas, and it became necessary to map their progress. Remember when you were in geography class and we used to draw horizontal lines all over the world? These are known as latitude lines, and they are distributed around the Earth with the equator as the origin. The angle of the stars to the horizon was calculated by ship crews using a sextant: a device that calculated the angle of the stars to the horizon. However, knowing only the latitude was insufficient for plotting ships on a map. Vertical lines (longitude) were also required, which is where GMT enters the picture.
AFTER THAT, THERE WAS GMT.
Without a clear origin, it was eventually decided that the 0-degree vertical line should pass through Greenwich, London's Royal Observatory. The Prime Meridian was named after this line, and noon is declared when the sun reaches its highest point directly above it. However, due to the Earth's elliptical orbit and tilted axis, the true 12pm GMT is usually a few minutes out of sync each day. Fortunately, an annual average was calculated to reconcile this discrepancy, making GMT the average solar time that is unaffected by Daylight Savings Time. With the advent of GMT timepieces, it was possible to calculate longitude by observing the position of the sun at noon and calculating the difference between local and GMT time. So GMT watches are ideal for boat travel…but how does this apply to you?
THE AGE OF AIR TRAVEL
Then there's air travel. Humans were suddenly zooming across multiple timezones at breakneck speed. Pan Am Airlines approached Rolex and requested a new watch design to help their staff keep track of time. The GMT watch was invented in 1954. In short, the GMT watch was designed to show the GMT as well as another timezone. However, the watch's clever design allowed its owners to use it for other purposes as well. As a result, GMT watches quickly gained popularity, and soon after their initial release, people other than pilots were wearing them.
THE PRESENT-DAY
For businesspeople communicating with foreign clients, medical professionals attending conferences abroad, international travellers, and even those who prefer to stay in one timezone. GMT watches are suitable for everyone. However, since the early days of longitude, some things have changed, and we now use Coordinated Universal Time (UTC). It was invented in 1955 to replace GMT and is far more accurate than other time-keeping methods. To avoid major confusion and disruption to timezones, no significant changes were made to the GMT scale, and thus the term GMT is still widely used.
HOW TO DISPLAY THE GMT AND LOCAL TIME
The GMT watch's original function was to display GMT time, which is easily accomplished by aligning the 24-hour hands with that. As long as you know the timezone of your current location, you can change the position of the 12-hour hands based on the position of the 24-hour hands. If you are in Germany, for example, the timezone is GMT +1. If the GMT time is 9 a.m., simply set the 12-hour clock's hour hand to 10 and the minute hand to 0.
HOW TO TELL THE DIFFERENCE BETWEEN AM AND PM
Because some people aren't concerned with what time it is in Greenwich, the 24-hour clock can also be set to your current timezone. This way, you'll always be able to tell whether it's morning or afternoon, which is a feature that the traditional analogue watch lacks.
HOW TO SHOW MULTIPLE TIME ZONES
Some GMT watches have a rotating bezel, which is a ring feature around the watch's clock face. This frequently has markings to show different city timezones, so you can tell the time in multiple locations simply by turning the bezel.
WHY DO PEOPLE WEAR GMT WATCHES?
People now use GMT hands to indicate the time in another time zone or to sync it up to their local time to have an AM/PM indicator. The Rolex GMT-Master from the mid-1950s is one of the most popular GMT watches of all time. Rolex made it with a distinctive blue and red bezel for Pan Am airlines' pilots. Because of the bezel colours, most people refer to the watch as a "Pepsi bezel" Rolex, and the connection with Pan Am faded quickly.
Other complications can be added to GMT watches. Breitling's in-house Chronomat GMT features a GMT hand as well as a chronograph for added functionality. While GMT watches were originally designed for pilots, they are now widely used by anyone who wants to track the time in two different locations. GMT watches also make excellent travel pieces for those who can't remember what time it is at home."
The Benefits of GMT Watches
Unlike many other watch functions, GMT watches provide real added value to the wearer and make everyday life easier.
Today in Berlin, tomorrow in New York, and the next day in Tokyo? A GMT watch is the ideal travel companion for people who need to be on time all the time and can easily adjust to different time zones.
A GMT watch with a 24-hour scale tells you whether it is day or night in another time zone.
GMT watches are a fashionable and eye-catching accessory, especially when multi-coloured bezels are available.
Aside from that, GMT watches can be used as compasses.
If you want to buy a GMT watch, you have a variety of options. There is a watch for every taste, with dials ranging from simple to complex.
Models of GMT watches that are most popular
GMT-Master II 116710LN by Rolex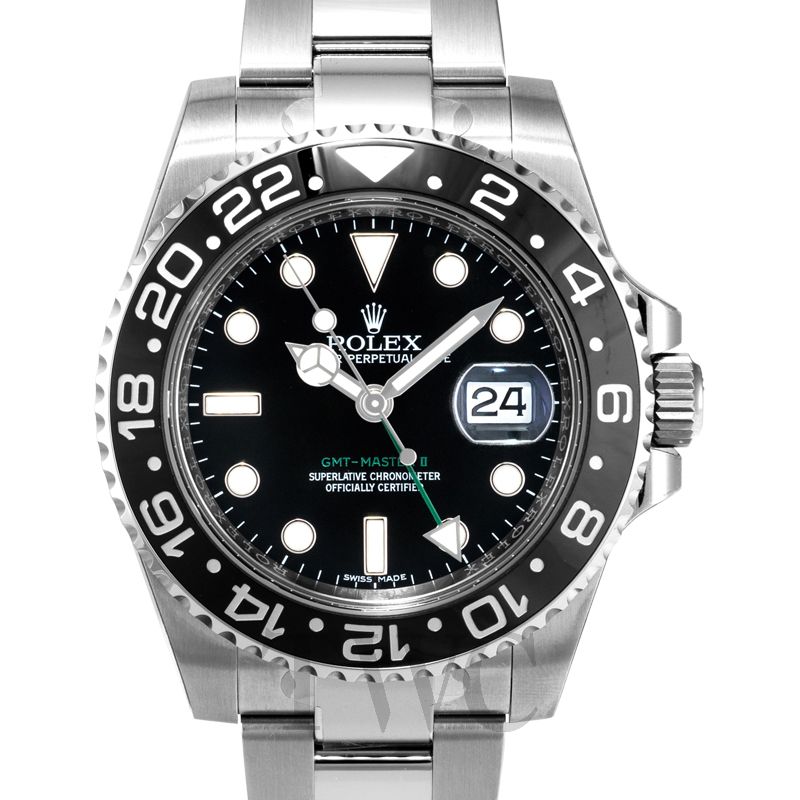 The Ref. 116710LN with its monochrome black bezel is the definitive model in the Rolex GMT-Master II collection. The SuperCase, which was introduced in 2005, gives the model more volume, and the classic black bezel makes this reference an everyday companion that is perfectly understated.
GMT Omega Seamaster Planet Ocean 600M Omega's Seamaster collection also includes a beautiful GMT watch with striking orange accents and a dial that, with its bold blue colour, evokes the depths of the ocean. The Omega 8605 calibre with a coaxial escapement beats inside the Omega Planet Ocean 600M GMT, Ref. 232.30.44.22.03.001.
GMT Breitling Avenger II
Breitling also has its own GMT watch collection, including the Avenger II GMT, which has eye-catching tabs and a satin-finished stainless steel bezel. The Ref. A3239011.C35.107A's colour accents are limited to one red GMT hand, making the dial much easier to read.
GMT Panerai Luminor
The Italian luxury brand Panerai added a second-time zone to one of its most famous series, the Luminor GMT, at 9 a.m. The GMT models feature Panerai's massive yet elegant design as well as the world-famous crown protector.
Hopefully, this article was helpful in answering some of your clock-related questions. If you have any clock-related questions, feel free to use the comment section below. And if you want to know why clocks don't appear in dreams, we have a great article on just that so do give it a click if you are interested "Why don't clocks appear in dreams? Clocks and dreams!". Here is also a link about the history of clocks if you want to give that a look "History of timekeeping devices"