Grandfather clocks use a simple Analog Clock mechanism to run, which means they are mostly accurate if the original setter of the time accurately set it, To elaborate, this means that they are most of the times accurate with a probable error of + – a minute or two
A Bit About Grandfather Clocks
A grandfather clock is a tall, mostly standing, mostly 6 to 8 feet tall clock that with a pendulum held inside the tower and or the waist of the clock.
It is most elaborately carved and gives off an antique look. A grandfather clock is a symbol of exceptional cultural significance. Its functionality and design gave it a special place in the world of clocks. The grandfather clock had a deep attachment to the lives of people around it, for it told the household members and servants when to work, when to eat, and when to rest. This was a big jump in the clockverse when we talk about accuracy. This clock became popular trough the famous scientist Galileo and was the most accurate type of clock till 1930. It was officially first invented by Christian Hyuugans.
A pendulum is the main timekeeping element of a pendulum clock. Clock pendulums are usually made out of weights suspended on a wood rod or a metal rod. In better clocks, the weights are usually heavier as it increases the accuracy of a pendulum. The pendulum is kept in its momentum with the help of an escapement. Each time the pendulum swings through its center position, it releases one tooth of the escape wheel.
How To Find The Age Of A Grandfather Clock?
Essentially, the age of the grandfather clock depends on four main parts, brass used in it, hands and face of the clock, numbers on the dial, and wood used for its manufacturing.
Starting off with a brief history of Grandfather clocks, also known as "longcase clocks" by some clock-enthusiasts. Grandfather clock was invented after Dutchman named Christiaan Huygens efficiently used a pendulum as a clock-winding device back in 1656. But it was in 1670 that these clocks gained popularity and local clockmakers began to master the working of the pendulum for error-free timekeeping with the use of an anchor escapement which was the mechanical device that gave pendulum its swing.
A Few Ways To Estimate The Age Of Your GrandFather Clock
If you have a grandfather clock, finding out its age. This can tell you how much it is worth. 🙂 And here is how you can go through at doing just that
The Brass
Clockmakers in England used brass for making dials of grandfather clocks from around 1680 to 1770. In the beginning, brass-dial grandfather clocks had only one clock hand, as the clock owners believed that the hour of the day was much more important than minutes. It was in 1730, grandfather clocks with two hands began showing up in England, even though local villages and country areas still had clockmakers making clocks with only the hour hand. From 1730 through 1770, brass dials became more adorned and contained other qualities such as second hands, date hands, and wheels. Grandfather clocks with moon dials began to appear in clocks made from 1770 through 1830.
The Hands and The Face
To find the age of grandfather clock as accurately as possible, we have to consider a combination of multiple elements of the clock. We have to look holistically to those elements i.e face, hands, spandrels, orientation near the clock face, and of course movement pillars. Some clockmakers also signed their work, adding their initials or signature to the clock face, which narrows the clock's age to a certain era.
The hands of the clock often broke and were replaced, in that case, spandrels are used to determine the age of the grandfather clock as they are able to give better explanations to date the clock. One of the earliest spandrels, dated at around 1700, which had an angel's head in the middle of a pair of wings. Similarly, Gold spandrel corners date a grandfather clock to between 1775 and 1785.
The Numbers
From 1700 to 1870, Roman numerals were used on faces of the grandfather clocks. Although it was rare, the clockmakers not only used Roman numbers during that period but also Arabic numerals on the clock dials from as early as 1795 to 1820.
If a clock face had the minutes 15, 30, 45, and 60, the grandfather clock was made from 1800 to 1820, but though unusual, you could also find one made in 1795. Other number features include the minutes in increments of 5 to 60 on clocks made from 1770 to 1800.
The Wood
Until 1880, grandfather clocks were customized according to buyers' personal interests. The wood that made up the longcase was obtained from the trees of the specific area and type. In the beginning, clocks were primarily made from oak. But the premium quality clocks' wood cases were made from veneers in walnut and ebony. A lot of work went into the construction of the case with intricate moldings, expensive brass fittings, and detailed inlays. It was in about 1750, that famous clockmakers started using mahogany for manufacturing the clocks, as it was an expensive import at that time. Finest of the quality, mahogany- or walnut-cased grandfather clocks also contained costly movements, decoration, and enchanting looks.
Do Grandfather Clocks Need To Be Wound?
 Battery-operated grandfather clocks do not require any winding on the other hand mechanical grandfather clocks do require winding.
First, let's go over the types of grandfather clocks and we'll see how they work, then we can talk about how to wind a grandfather clock briefly.
How are GrandFather Clocks Made?
Types Of Grandfather Clocks
In this article, we'll focus on differentiating grandfather clocks on the basis of their mechanism. There are two types of grandfather clocks. battery-operated and mechanical. First, let's talk about battery-operated grandfather clocks.
Battery-Operated Grandfather Clocks
Battery-Operated or Quartz grandfather clocks are powered by a battery, due to this they do not require any winding. So how do they work? Basically, Quartz clocks are powered on the basis of piezoelectric properties of Quartz crystal which means that if the Quartz crystal is squeezed it will vibrate and it goes the other way around meaning if the crystal is supplied with some voltage it will vibrate. These vibrations are converted to electric pulses which are then used by the clock mechanism to operate the clock.
Quartz grandfather clocks have a severe advantage over the mechanical ones because they are much more accurate and do not require to be wound. Furthermore, as battery-operated clocks do not have many mechanical parts they are much more durable and require very little maintenance as compared to the mechanical ones. The chime of these clocks also comes from a small speaker, but it's usually pretty good quality and you hardly notice any difference from the mechanical ones. So a one-word answer no battery-operated clocks do not require any winding.
Mechanical Grandfather Clocks
Essentially, grandfather clocks work on the same principle as the pendulum clocks, they are driven by a mechanical energy source. This energy source in most cases is either a tightly wound spring or a suspended weight. Mostly in case of a grandfather clock, it's a tightly wound spring. So how does a mechanical grandfather clock work? Basically, when the clock is wound, the spring stores a lot of potential energy. This energy is then supplied to the clock mechanism as the spring slowly unwinds, to regulate the clock movement and for the clock hands to move at a certain rate, an escapement is employed. The escapement slows down the hands so the move at the correct speed.
A major disadvantage of mechanical pendulum clocks is the fact that they need to be regularly wounded. But why is that, as the spring unwinds the potential energy is used, eventually it finishes up and so it needs to be wound again. Moreover, due to all the mechanical parts, it requires regular maintenance and is much less durable than the battery-operated grandfather clocks. In short, the mechanical grandfather clocks do require winding.
How To Wind A Grandfather Pendulum Clock?
We'll go over this briefly because it's a whole another topic and it would be out of this article's scope.
First, you will need to open the door of the clock, this is usually locked and requires a case but in many cases, it can also be just pulled open. You might see a chain for your grandfather clock, you need to pull it a couple of times until you feel some resistance. This resistance shows that the clock is wound. Secondly, you might see a crank on the clock face you will need to turn it clockwise. As in the case of a chain, you need to turn the crank until you feel resistance. This action properly winds your clock. Lastly, if the clock has a pendulum and is weight driven, you need to make sure the pendulum starts moving.
In case the clock is spring-driven and requires a key to be wound, you need to follow these steps before you follow the above steps. First, you need to insert your key into the winding holes and then the process is the same as above.
Some interesting standing clocks that you can buy right now!
An elegant grace of a clock standing at a height of 72 inches that will be a perfect fit for your dining as well as your living room. The woodish well-polished look is sure to astound anyone that stares a glance. The golden pendulum that hangs low and along with two standing golden rods that further add to the grace. The pendulum moves along the rectangular board whilst doing what pendulums do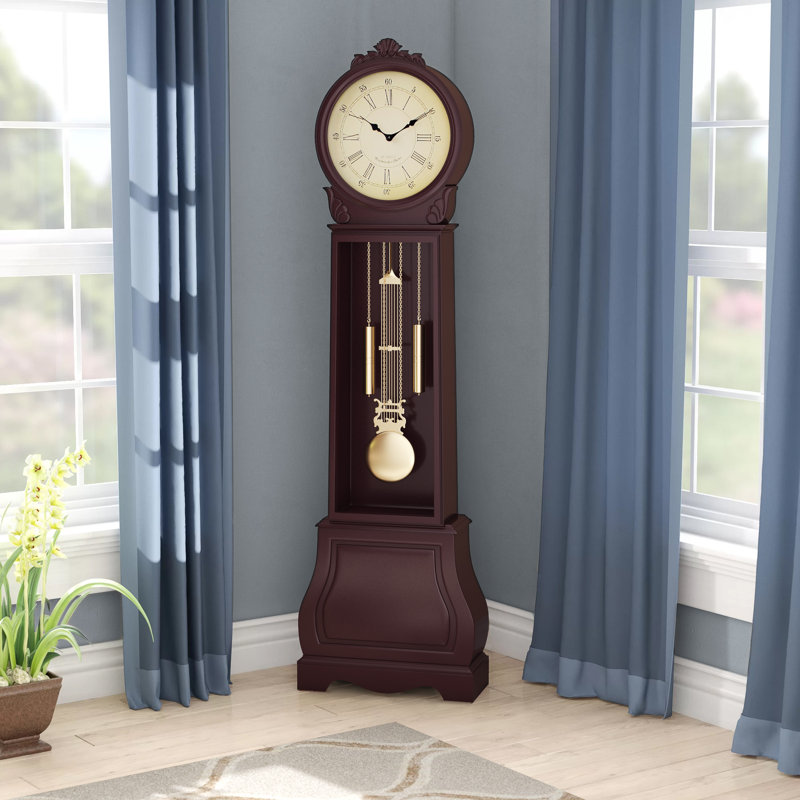 It comes with a single chime that is shut off manually. And the clock uses 5 AA batteries to function. The crown style is round as can be seen in the above picture. Moreover, its shipping cost is zero which is a great thing as expensive shipping costs often tend to ruin the mood. And lastly, it is available at Wayfair for a cost of $257.99 as of now.
Some good and bad reviews from the customers
"Arrived in good condition. I love this clock. It's not that loud. It's perfect. Very beautiful. This is my first grandfather clock. It is worth buying. I highly recommend it. Worth the price. Thank You. " Katherine
"All batteries you need are not included. it's advertised as "no assembly required", well….."Aretha from DECATUR
" It has a good look to it. The chimes are battery operated and do not sound that real. The pendulum hits the side of the clock and I have tried everything to no avail. I have to say you pay for what you get and I should not expect it to be the real deal for this price range. It was easy to put together." Timothy from DURHAM
"Essentially what I expected; however, pendulum strikes the sides of the enclosure which needed to be remedied. "Larry from MA
An exciting clock to have around your house. It looks light and elegant and doesn't occupy much space. Above all, it's blackish look and stand further adds to the overall grace. This 69.5 inches Ophelia's piece is completely made of metal and weighs around 20 pounds.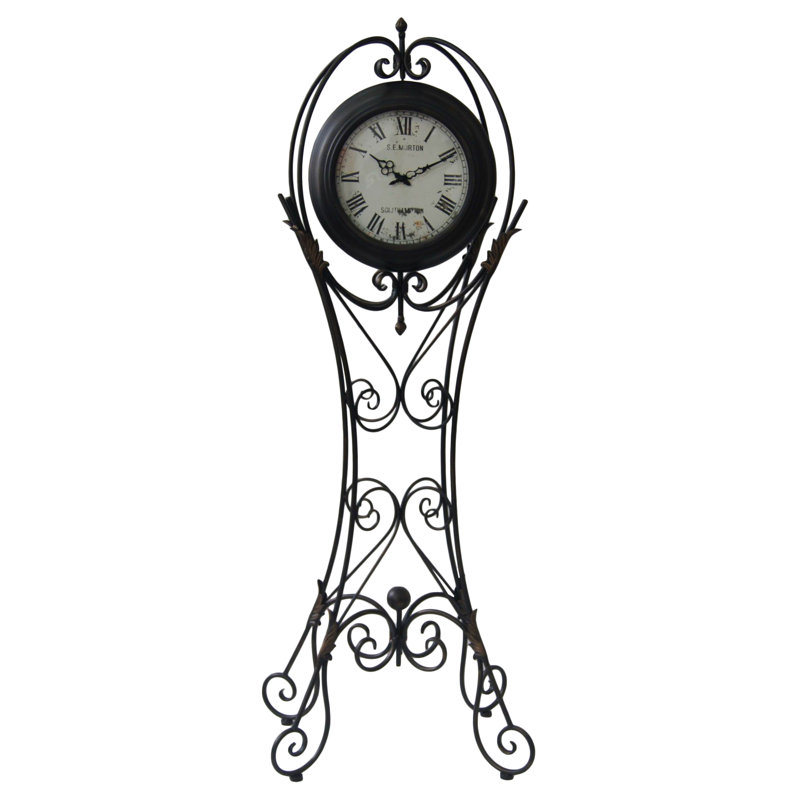 It has a total of four legs and requires a battery. Moreover, this clock can also be placed outside near your garage or pool. This clock also comes with free shipping and is available for $209.99 at Wayfair as of now.
Some Good And Bad Reviews From The Customers
" Love our unique clock we have set it up by entrance of the house and everyone loves it as they come in through the house"Victor from Spring Brook Twp
" Beautiful clock, definitely catches the eye and will last for years. However, close up the quality should be better for the price. First clock arrived damaged and unusable. Second clock had many flaws (crooked pieces, holes, dents, sloppy soldering, etc.) in the metal but didn't want to bother with returning…again. "Angela from Langhorne
"This is not only a clock – it is a magnificent piece of art! It projects a commanding regal presence and I'm sure it will be a family heirloom for years to come. I entwined green and gold silk leaves on the 4 sides. My family and friends are in breathless awe. (It is not a small piece and is worth double the price)" Karen from Louisville
A simple yet elegant looking clocks, that doesn't take much space and can be put nearly anywhere. Its inspiration lies in old iron pipes and gauges and comes featuring 3 different clock faces that themselves dvelve between different face designs. It weighs 15.65 pounds and has the following dimensions: 72" H x 16" W x 16" D.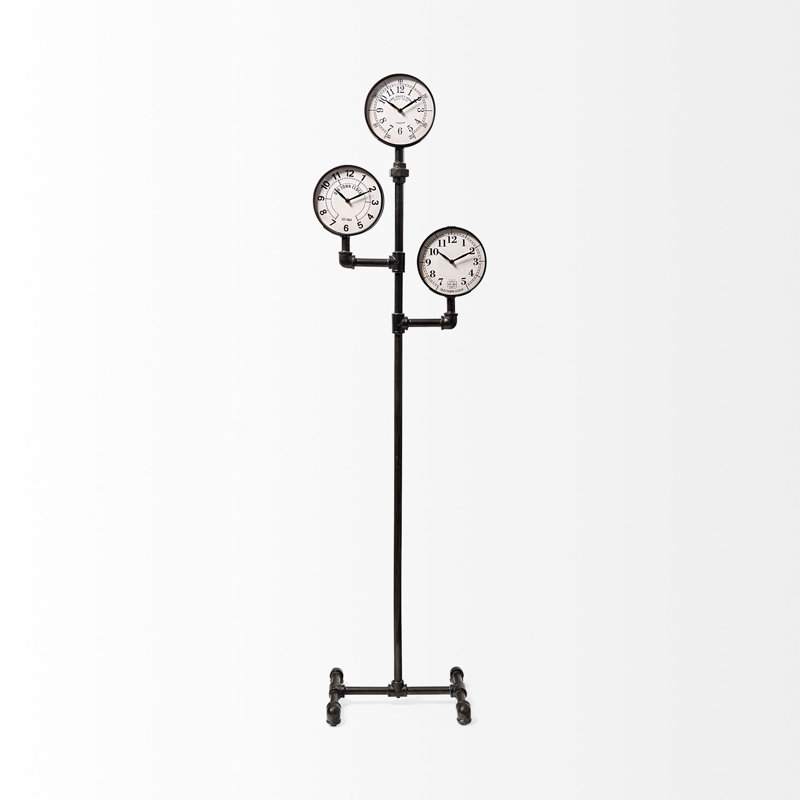 It is completely made of metal and comes with a greyish finish. This clock also comes with free shipping and is available at Wayfair for the price of $279.99 as of now. There aren't many reviews available for this clock so we aren't actually sure of what kind of experiences it lead people to have.
This is a unique looking clock and one that will stand out the most from our list. It looks like an old fuel dispenser, but except actually filling petrol it has shelves to store stuff in. This clock comes in the color yellow that will trasfix anyone who sees it so without further ado lets take a look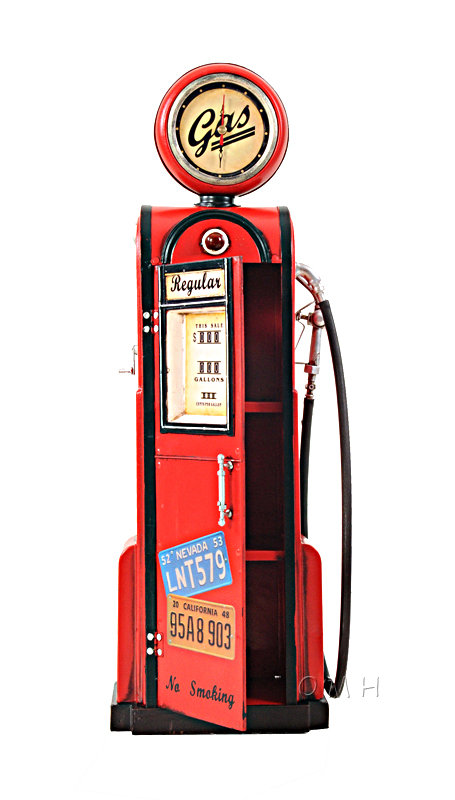 its great for gifts and also works quite well as a shelf. Made of metal and requires AA batteries to run. Its shipping cost like you might have already guessed is also nil. And it comes at a price of $108.99 at Wayfair as of now.
Some good and bad reviews from the customers
"The item is more then I hoped for. It is a Christmas gift for my husband and he is going to love it. So happy with my purchase, and it also came right on time "Anonymous from Prince Rupert
"This thing is so cool… my wife didn't even realize it was a clock till we got it. Makes it way cooler. My son loves it, although I do wish it was full size. Haha Pros: cool inside shelves to hide stuff in Cons: size is a little small "roy from valley village, CA
" Love the vintage look and the shelves are a bonus. "Trina from Richmond Hill, ON
A whitish graceful clock that can literally be put anywhere, in your dining room, in your living room or your guest room. It is a bit heavy, infact the most heavy in this list and weighs around 40 pounds and comes with the following dimensions: 72" H x 19.25" W x 8.5" D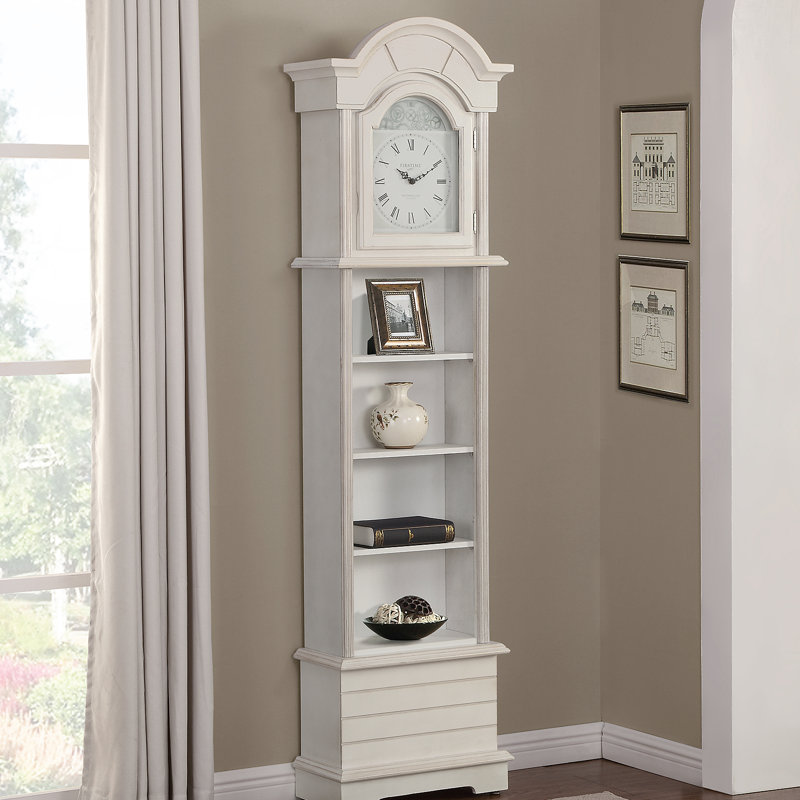 It is primarily made of wood and comes with four shelves, where you can put books or any other beautiful decor. This clock requires 5 AA batteries and features roman numerals. Lastly, the sound of the chime can be turned off by just not putting in the battery for that chime. It also comes with free shipping and costs around $369.99 at Wayfair as of now.
Some Good And Bad Reviews From The Customers
" I absolutely love it!!!! Looks so nice in my room. Nice chime sound. It was definitely worth the price. "Cindy from Germantown
"I have a small cottage home with small rooms. I need small furniture and accents or the rooms just look like "furniture storage" spaces! This Grandfather clock makes a nice transition piece from the living room to the dining room and does not overwhelm the space. I combine many styles of furniture and decoration…just what pleases me! I really like this clock as it looks like a country piece. The chime that does not strike from 10 pm to 6 am is nice too. We had a little "glitch" with my first order but Wayfair made it right. I appreciate their great customer service and am delighted with my purchase!" Joanne from Vancouver, WA
"Item came sooner than expected. Was disappointed with purchase. Item is cheaply made and for price was expecting a nice piece of furniture. Was fairly simple to put together until it came time to put the clock piece on and the particle board began to chip away. Would recommend to continue looking and save your money."Carrie from New Lenox
"It looks perfect for the place I needed something. The chime is really disappointing- it's not a nice rich tone- it's a cheap battery tinny tone… but I guess that's reflected in the price."Susan from Fishkill
"Exactly what I was looking for. For the price it is v'ery good quality. Size is exactly as described. Would definitely recommend." Tara from Orlando, FL
Hopefully, this article was helpful in answering "How Accurate Are Grandfather Clocks?" along with some other answers about Grandfather clocks. And stay tuned to ohmyclock for more interesting articles on clocks