Engraving jewelry, especially wedding rings, has been a popular trend for a long time. By engraving, you personalize and commemorate the item, making it much more special because it now resembles something significant. Naturally, the trend of engraving quickly spread to watches, which isn't surprising given that a watch can be both a perfect gift and something you wear all the time. Furthermore, it is considered to be a man's only jewelry.
In this article, we will take a closer look at watch engravings, what you should consider when engraving your watch, and answer frequently asked questions about watch engraving.
Why Should You Personalize A Watch?
There are numerous reasons why you should engrave a watch. The majority of the time, it is to commemorate something and make the watch more meaningful.
The following are some of the most common reasons for engraving a watch:
to mark a special occasion, such as an anniversary
To make a gift more personal
to commemorate a feat (for example retirement)
When deciding what to engrave on your watch, consider the reason and purpose of the watch and the engraving. For example, if you're giving the watch as an anniversary gift, the purpose of the gift is clear, so engraving a quote, a date, or a name makes sense. However, if it is a birthday gift, it is natural for the engraving to be related to the birthday, such as "To XX on your 60th birthday." If it is simply a gift, only the name should be engraved. It all depends on what you want your engraving to say (whether that is to yourself or someone else). Consider the message you want the watch to convey.
How Much Does It Cost To Engrave A Watch?
The cost of having a watch engraved is generally determined by two factors. The first is where you want it engraved, and the second is how many characters you want to be engraved.
Because more letters mean more work for the engraver, if you only need a few characters, it is often less expensive than if you need a lot of characters and a long sentence. At the same time, keep in mind that the more letters you require, the smaller they will be. This, in turn, complicates the engraving because it is more difficult to engrave tiny letters than larger ones because the engraver must be more precise.
In summary, the following factors may influence the price of an engraving:
The quantity of characters
The engraving's complexity (for example, photos/images).
The engraving typeface
The engraving's location
In general, the cost of an engraving ranges from €20 for the most basic to around €300 for the most complex and custom engravings.
What Should I Engrave On My Own Watch?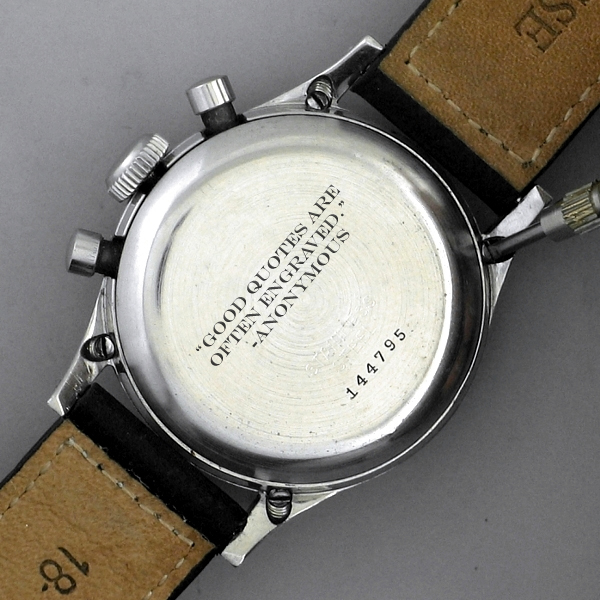 It's common to engrave watches intended as gifts, but it's also not unheard of to engrave your own watch. There are numerous occasions and reasons to engrave your watch.
Here are some ideas for what to engrave on your own watch:
Engrave a specific milestone, such as a date.
Engrave an inspirational or motivating quote.
Make it more personal by engraving your name on it.
etch a symbol or image (for example a family crest)
We'd like to expand on the symbol because most engravers (but not all) allow you to engrave a symbol/image in addition to text. Engraving a symbol is a great reason to engrave a watch for yourself in order to make it more personalized. You could, for example, engrave your family crest or something similar.
You won't be able to engrave just any type of image due to the complexity involved, but it will also likely affect the cost of the engraving unless the symbol is very simple, such as a star or heart.
How Long Does It Take To Engrave A Watch?
Naturally, the time it takes to engrave a watch depends on where you engrave it and how busy they are. In some cases, a watch can be engraved in one day; in others, it can take up to a week. However, a good starting point is between 2 and 7 days. If you have a particularly complex and custom request, you should anticipate a longer turnaround time than if you only require a simple and basic engraving.
Is It Possible To Remove An Engraving From A Watch?
Yes, it is possible! Brushing or polishing the surface can be used to remove an engraving (depending on the finish of the case back). This is a relatively simple fix for a watchmaker, but keep in mind that it is dependent on the depth of the engraving.
Should You Personalize Your Watch?
The answer is that it is conditional. In general, if you own an expensive or collectible watch, the general rule is that you should never make any modifications or changes to the watch because it will reduce its value. When you engrave a watch, you are not only changing its original appearance, but you are also making customization that is appreciated only by you or the receiver and will not be appreciated by anyone else.
The good news is that, if you change your mind or plan to sell the watch in the future, an engraving can usually be removed. If it is done on the case back, you can either replace it with a new case back or polish it and remove the engraving. That being said, you should engrave your watch if you want to. It's an excellent way to personalize the watch, give it a deeper meaning, and make it more meaningful to the owner. But think twice if you intend to sell it.
That's about it for this blog, if you have any further clock/watches-related questions, feel free to use the comment section below. And if you want to read an interesting article on why clocks don't appear in dreams, we have a great article on just that so do give it a click if you are interested "Why don't clocks appear in dreams? Clocks and dreams!". Here is also a link about the history of clocks if you want to give that a look "History of timekeeping devices"