Whether its for home decor or just for telling time, clocks hold firm on their importance either way. And one of the many types of clocks that stand out the most are standing clocks. They do occupy their fair share of area but can nonetheless become a very valuable asset to the look you want to pull off. There are many different intriguing variations of standing clocks that are sure to astound you. So we, here ate ohmyclock decided to make a compilation of some of the best standing clocks we could get our hands on. So, without further ado, here we go
An elegant grace of a clock standing at a height of 72 inches that will be a perfect fit for your dining as well as your living room. The woodish well-polished look is sure to astound anyone that stares a glance. The golden pendulum that hangs low and along with two standing golden rods that further add to the grace. The pendulum moves along the rectangular board whilst doing what pendulums do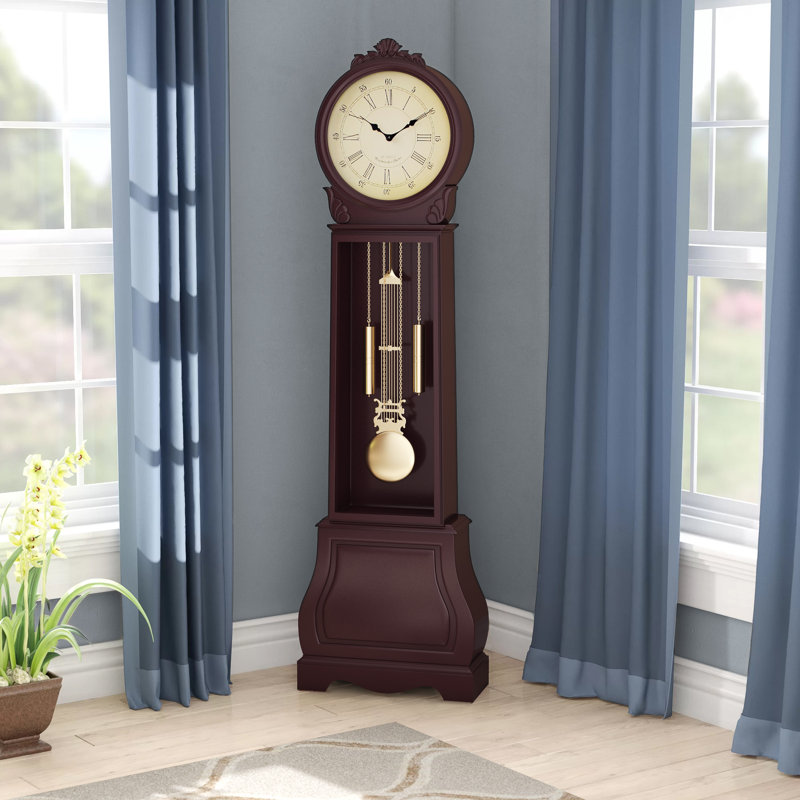 It comes with a single chime that is shut off manually. And the clock uses 5 AA batteries to function. The crown style is round as can be seen in the above picture. Moreover, its shipping cost is zero which is a great thing as expensive shipping costs often tend to ruin the mood. And lastly, it is available at Wayfair for a cost of $ 257.99 as of now.
Some good and bad reviews from the customers
"Arrived in good condition. I love this clock. Its not that loud. Its perfect. Very beautiful. This is my first grandfather clock. It is worth buying. I highly recommend. Worth the price. Thank You. " Katherine
"All batteries you need are not included. it's advertised as "no assembly required", well….."Aretha from DECATUR
" It has a good look to it. The chimes are battery operated and do not sound that real. The pendulum hits the side of the clock and I have tried everything to no avail. I have to say you pay for what you get and I should not expect it to be the real deal for this price range. It was easy to put together. "Timothy from DURHAM
" Essentially what I expected; however, pendulum strikes the sides of the enclosure which needed to be remedied. "Larry from MA
An exciting clock to have around your house. It looks light and elegant and doesn't occupy much space. Above all, it's blackish look and stand further adds to the overall grace. This 69.5 inches Ophelia's piece is completely made of metal and weighs around 20 pounds.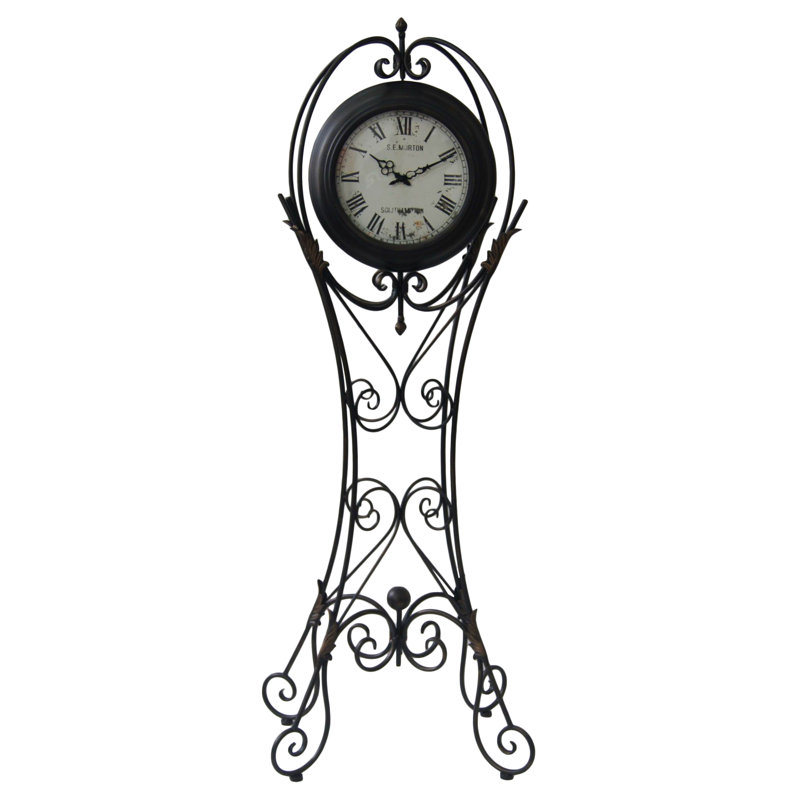 It has a total of four legs and requires a battery. Moreover, this clock can also be placed outside near your garage or pool. This clock also comes with free shipping and is available for $209.99 at Wayfair as of now.
Some good and bad reviews from the customers
" Love our unique clock we have set it up by entrance of the house and everyone loves it as they come in through the house"Victor from Spring Brook Twp
" Beautiful clock, definitely catches the eye and will last for years. However, close up the quality should be better for the price. First clock arrived damaged and unusable. Second clock had many flaws (crooked pieces, holes, dents, sloppy soldering, etc.) in the metal but didn't want to bother with returning…again. "Angela from Langhorne
"This is not only a clock – it is a magnificent piece of art! It projects a commanding regal presence and I'm sure it will be a family heirloom for years to come. I entwined green and gold silk leaves on the 4 sides. My family and friends are in breathless awe. (It is not a small piece and is worth double the price)" Karen from Louisville
A simple yet elegant looking clocks, that doesn't take much space and can be put nearly anywhere. Its inspiration lies in old iron pipes and gauges. The clock comes featuring 3 different clock faces that themselves dvelve between different face designs. It weighs 15.65 pounds and has the following dimensions: 72" H x 16" W x 16" D.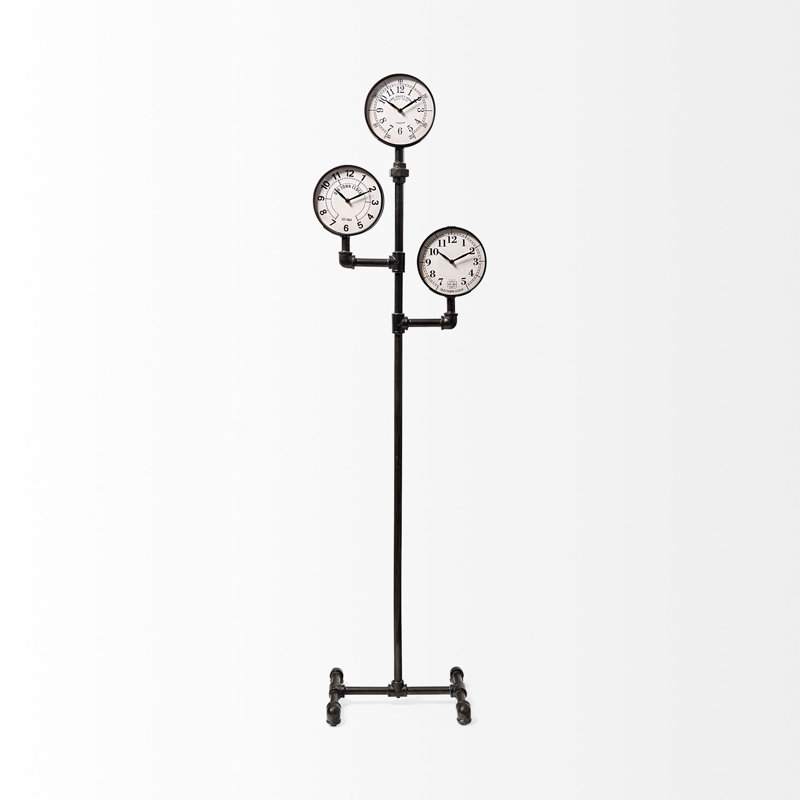 It is completely made of metal and comes with a greyish finish. This clock also comes with free shipping and is available at Wayfair for the price of $279.99 as of now. There aren't many reviews available for this clock so we aren't actually sure of what kind of experiences it lead people to have.
This is a unique looking clock and one that will stand out the most from our list. It looks like an old fuel dispenser, but except actually filling petrol it has shelves to store stuff in. This clock comes in the color yellow that will transfix anyone who sees it. So, without further ado lets take a look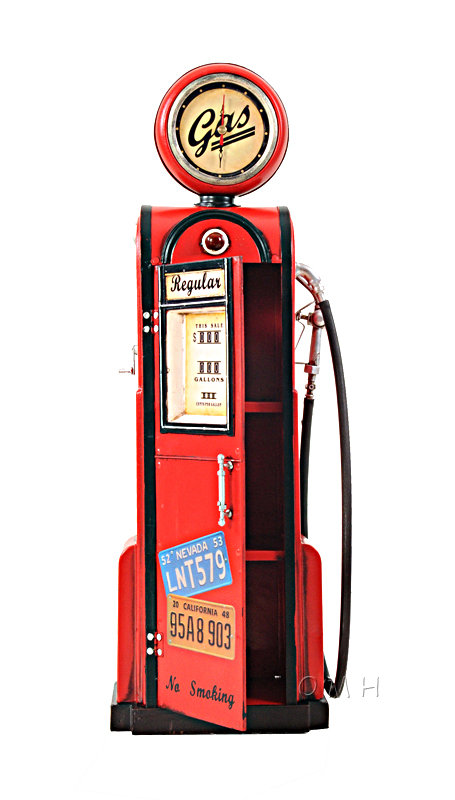 its great for gifts and also works quite well as a shelf. Made of metal and requires AA batteries to run. Its shipping cost like you might have already guessed is also nil. And it comes at a price of $108.99 at Wayfair as of now.
Some good and bad reviews from the customers
"The item is more then I hoped for. It is a Christmas gift for my husband and he is going to love it. So happy with my purchase, and it also came right on time "Anonymous from Prince Rupert
"This thing is so cool… my wife didn't even realize it was a clock till we got it. Makes it way cooler. My son loves it, although I do wish it was full size. Haha Pros: cool inside shelves to hide stuff in Cons: size is a little small "roy from valley village, CA
" Love the vintage look and the shelves are a bonus. "Trina from Richmond Hill, ON
A whitish graceful clock that can literally be put anywhere, in your dining room, in your living room, or your guest room. It is a bit heavy, in fact the heaviest in this list and weighs around 40 pounds. This clock comes with the following dimensions: 72" H x 19.25" W x 8.5" D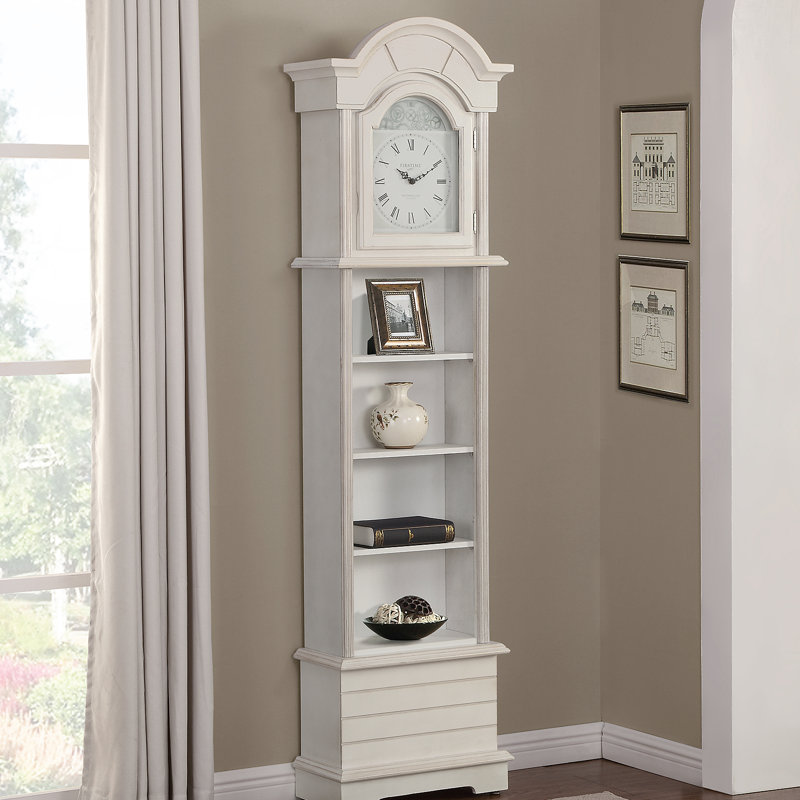 It is primarily made of wood and comes with four shelves, where you can put books or any other thing tha you like. This clock requires 5 AA batteries and features roman numerals. Lastly, the sound of the chime can be turned off by just not putting in the battery for that chime. It also comes with free shipping and costs around $369.99 at Wayfair as of now.
Some good and bad reviews from the customers
" I absolutely love it!!!! Looks so nice in my room. Nice chime sound. It was definitely worth the price. "Cindy from Germantown
"I have a small cottage home with small rooms. I need small furniture and accents or the rooms just look like "furniture storage" spaces! This Grandfather clock makes a nice transition piece from the living room to the dining room and does not overwhelm the space. I combine many styles of furniture and decoration…just what pleases me! I really like this clock as it looks like a country piece. The chime that does not strike from 10 pm to 6 am is nice too. We had a little "glitch" with my first order but Wayfair made it right. I appreciate their great customer service and am delighted with my purchase!" Joanne from Vancouver, WA
"Item came sooner than expected. Was disappointed with purchase. Item is cheaply made and for price was expecting a nice piece of furniture. Was fairly simple to put together until it came time to put the clock piece on and the particle board began to chip away. Would recommend to continue looking and save your money."Carrie from New Lenox
"It looks perfect for the place I needed something. The chime is really disappointing- it's not a nice rich tone- it's a cheap battery tinny tone… but I guess that's reflected in the price."Susan from Fishkill
"Exactly what I was looking for. For the price it is v'ery good quality. Size is exactly as described. Would definitely recommend." Tara from Orlando, FL
Last words
This was an extensive list of some of the most elegant standing clocks out there. Hopefully, it was helpful and if you have any related questions do use the comment section below.
Lastly, If you are interested in knowing why do pendulum clocks stop during earthquakes. We wrote an article on that, so check it out. And stay tuned to ohmyclock for more interesting articles about clocks