The brand's watches are as iconic as their most popular rings and bracelets, if not more. Out of the many amazing models produced by the brand, we have chosen the five best women's watches for the Cartier fanatic in your life.
Cartier Santos-Dumont Watch
Known as the first "pilot's wristwatch in history," the iconic Cartier-Santos timepiece is the result of the longtime friendship between Brazilian aviator Alberto Santos Dumont and Louis Cartier. Santos Dumont had asked Cartier to create a timepiece that would allow him to tell time while he was flying. And so the Cartier-Santos was born in 1904.
The case's design has a geometrically inspired shape and features exposed screws—an element that Cartier has used throughout its jewelry collections as well. This particular model comes in an 18-karat pink gold case and a crown set with a stunning sapphire. The dial sports Roman numerals and has a blue sword-shaped minute and hour hands. The elegant gray alligator strap has an 18-karat pink gold ardillon buckle.
Cartier Tank Française Watch
If there was an award for the most iconic watch of all time, Cartier's Tank model would definitely win it. It has been worn by the likes of Princess Diana, Andy Warhol, Clark Gable, and Jacqueline Kennedy Onassis. In 2017, the company marked its one-hundredth anniversary (the watch's design was inspired by the Renault tanks during WWI) by releasing 11 new models from the Tank Américaine, Tank Louis Cartier, and Tank Française line (of which Michelle Obama is a fan).
This Tank Française timepiece features a steel case set with 26 brilliant-cut diamonds, a silver-tone dial, and striking blue hands. It has a quartz movement and is water-resistant of up to one hundred feet.
Cartier Panthère de Cartier Watch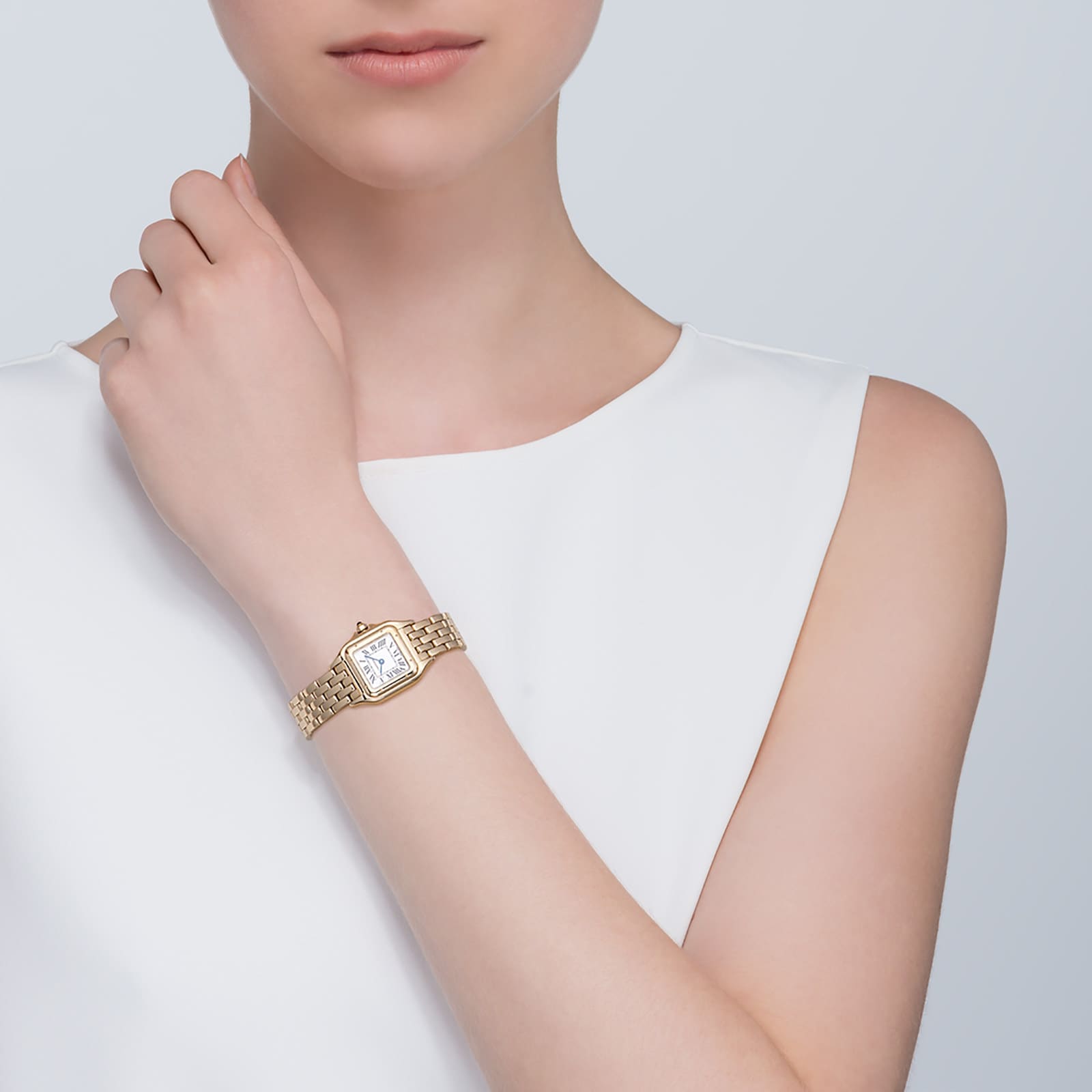 The gorgeous Panthère de Cartier watch was introduced in 1983, discontinued in the early aughts, and then re-launched again (thank you, Cartier) in 2017. The model, with its pave-inspired bracelet, has undoubtedly one of the most recognizable designs ever.
This stunning 18-karat pink gold timepiece is set with brilliant-cut diamonds all over its case and bracelet (even the crown has one). It has roman numerals, a square case, and is water-resistant up to one hundred feet.
Ballon Bleu de Cartier Watch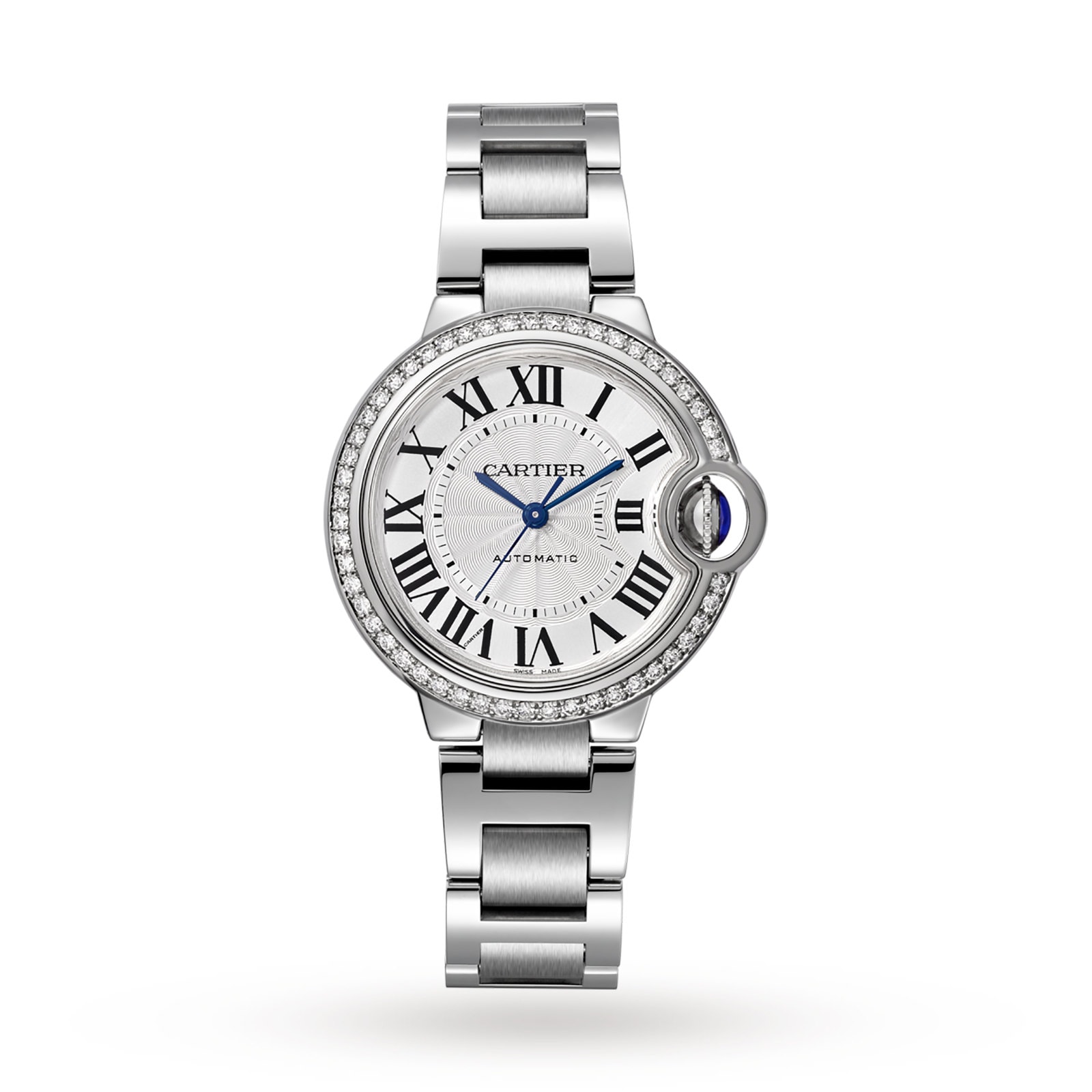 Compared to other classic Cartier styles, the Ballon Blue line is relatively new—it was introduced in 2007 but it has already become one of the company's most famous—and best-selling—ones.
The Ballon Bleu watch has a very distinct case design that slopes over its cabochon sapphire crown. The rounded shape of the case has a uniform appeal, which makes the Ballon Bleu model popular with both men and women.
This one features a self-winding mechanical movement and an 18-karat pink gold case and buckle on its alligator skin strap.
Drive de Cartier Flying Tourbillon Watch
The elegant cushioned-shaped Drive de Cartier line was inspired by vintage cars. Its sapphire cabochon crown, for example, mimics the design of a bolt that was used in 1960s sports cars. Despite its retro look though the watch showcases Cartier's modern expertise and craftsmanship that have been developed for more than a century. The striking guilloche-patterned dial features a tourbillon complication with seconds, Roman numerals, and Cartier's signature blue sword-shaped hands.
The watch has been awarded the "Poinçon de Genève" certificate granted to the finest and most remarkable timepieces.
That's about it for this blog, if you have any further clock/watches-related questions, feel free to use the comment section below. And if you want to read an interesting article on why clocks don't appear in dreams, we have a great article on just that so do give it a click if you are interested "Why don't clocks appear in dreams? Clocks and dreams!
". Here is also a link about the history of clocks if you want to give that a look "History of timekeeping devices
"